In the past weeks cities all over the world have decided to use disinfectant sprayers to kill the virus of covid-19. They are spraying disinfectants on "hot spots" as main streets, hospital areas, bus stops, grocery store parking lots, playgrounds and other surfaces that may help spreading the virus.
Under what conditions and with what risks in terms of material compatibility can disinfectants be used in our Spraystriker™ or Icestriker™?
Normally our Spraystikers & Icestrikers are filled with salt brine solutions or water but right now many of them are spreading disinfections. In addition to their day-to-day business, our colleagues in charge had to deal with a large number of queries in the past few days concerning the material compatibility of a wide range of disinfectants. There are no official recommendations, so each authority decides independently whether and, if so, which substances will be used for their disinfecting areas.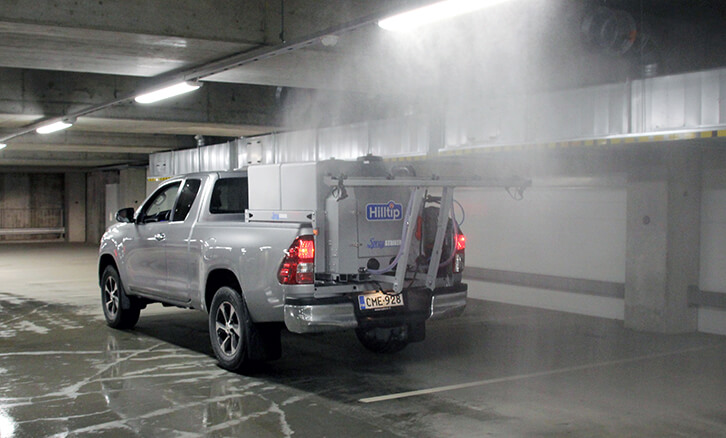 Which substances can be used in Hilltip Spraystriker™ & Icestriker™?
Most of our customers are using virucides or chlorine. Anyhow, when doing a closer examination of the material you quickly realises that at most the names are similar, but hardly any products are comparable with each other. We have realised that recommendations regarding material compatibility can only be made if the exact composition is known.
We are seeing pattern in the composition of the demanded active ingredients. We have divided the six most common active ingredients into three risk levels. The risk refers to possible damage to components as membranes or sealing rings.
Very low risk
Alcohols
Quaternary ammonium compounds
Low risk
Aldehydes
Amphoteric surfactants
Increased risk
Active oxygen hydrogen peroxide (bleach)
Active chlorine (sodium hypochlorite)
Basically all the mentioned components can be used, depending on the level of concentration. The tanks must be completely and sufficiently rinsed with fresh water after each operation, at the latest in the end of the day. In addition, virucides and biocides may require further action or precaution according the advise or regulation of the disinfectant manufacturer.
If you plan to use disinfectant in a Hilltip machine, please approach your contact person at Hilltip. We will be pleased to provide you with advice and support with regard to material compatibility and protect you from unpleasant surprises after use.